This page provides links to live streaming and to recordings of various services.
—————————————————————————————————
Live streaming:
The church is now live streaming, on the internet, many of its services. Click here to go to 'Live Stream', then click on the play button in the church image. you can however still tune in to Connemara Community Radio on Sunday morning to listen in as usual.
Recordings:
A recording of a service can be made upon request through the church. To view a recording, click here and select the 'Previous Recording' option.
Covid 19 restrictions:
Even though the covid-19 epidemic has subsided, we request the congregation observe any local notices.
Regular Live Streaming Mass Times:
There will be a Mass on Saturday evening at 07:00 p.m. and on Sunday morning at 11:30 a.m and on Monday, Tuesday and Friday at 09:30 a.m.
Full list of Mass details are posted in the Clifden Parish News letter. A copy can be found on this web site here.
Click on the church below to listen to the live mass.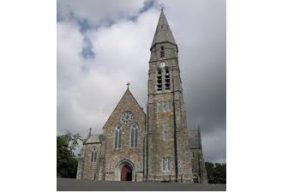 This will direct you to the website https://churchtv.ie/clifden
—————————————————————————————————
—————————————————————————————————
View First Communion recordings:
Click here to go to the page that holds the recordings of the  first communion held on Saturday 12/12/2020
—————————————————————————————————