This is the Star of the Sea Claddaghduff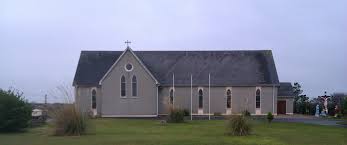 In Omey Island, linked by a causeway to Claddaghduff, the first seeds of Christianity were sown by St Feichin in the seventh century with the establishment of a church there. St Feichin is commemorated annually on the 14th January by a pilgrimage to his holy well, situated on the southern shore. With the setting up of the parish system in Ireland a stone church was built on Omey about 1170.
However, probably c.1300, the church was attacked by encroaching sands and, as all efforts to protect it failed, a church to serve the community was built on the mainland at Claddaghduff – the Black Shore – so named after the dark-coloured rocks. The present church of Our Lady, Star of the Sea was built c.1845. It was renovated and extended in 1901 but the major renovation works of the early 1970's brought the church to its present glory.